EASA keeps on top of the latest digital developments, including Influencer Marketing.
Established in 2008, EASA updated in 2015 its Best Practice Recommendations (BPR) on Digital Marketing Communications (DMC) which, among other things, reaffirmed the remit of the SROs and the respective responsibilities of stakeholders. It unambiguously extended the scope of advertising self-regulation to all forms of marketing communications, including digital media, as well as any future forms of digital marketing communication that were yet to be developed. From this point, influencer marketing had already become the subject of SR codes and rules.
However, the novelties in marketing communications brought by Influencer Marketing and the growing importance of this marketing technique, especially among an increasing number of young people and minors, called for additional action and guidance for the industry. Therefore, as early as 2017, the SROs in the EASA network started working on national guidelines for Influencer Marketing, putting self-regulatory efforts at the forefront of ensuring responsible application of this marketing technique.
In 2018, EASA also took steps at the European level by issuing a Best Practice Recommendation on Influencer Marketing. The BPR looks at the key elements of Influencer Marketing techniques and assists SROs in creating their own national guidance, providing advice on issues regarding the definition of influencer marketing, editorial control, a material connection between advertisers and influencers, and recognisability and disclosure, the responsibility of stakeholders and awareness-raising. EASA's guidelines recognise a close link between influencer marketing and the concept of user-generated content, which can subsequently mislead the consumers, and acknowledge that the role of the advertising self-regulatory organisations is to guide the industry stakeholders – advertisers and brand owners as well as influencers themselves – to use this marketing technique responsibly and in compliance with the existing SR principles and national SR codes.
EASA's network of SROs has embraced the EASA Influencer Marketing BPR. Since its adoption, a number of ad standards bodies have adopted the provisions of the EASA BPR in their local codes and issued their own national guidelines, tailored to their market and consumer needs and habits. SROs have also created extensive training programmes, seminars and workshops for the industry and carried out monitoring exercises to assess the influencer marketing compliance with the ethical codes.
In 2023, the BPR on Influencer Marketing has been updated and reviewed to incorporate the latest trends in the marketing technique and to detail when influencer content is considered as marketing content under ad self-regulatory rules. The guidance also details what creators should focus on when disclosing their posts as marketing and the elements that SROs should define in their national recommendations to guide influencers towards proper and transparent disclosure. The BPR also runs through some examples of disclosure techniques based on national guidance.
Some SRO have initiated data-driven SR initiatives to monitor the marketing practices of influences on different social media
EASA and its network of SROs continue to develop and promote their actions in addressing this challenging and constantly evolving marketing technique, seeking to ensure the highest level of consumer protection against irresponsible advertising.
Implementation of influencer marketing guidelines in EASA's network: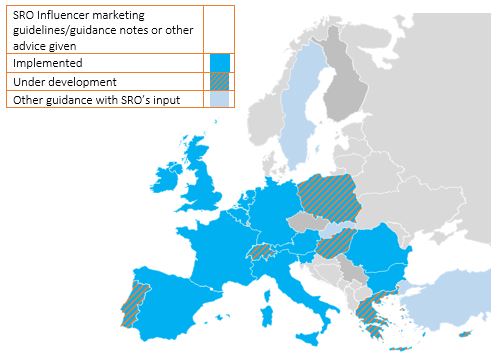 If you wish to get more information about our work and services to the industry in this area, please contact us.